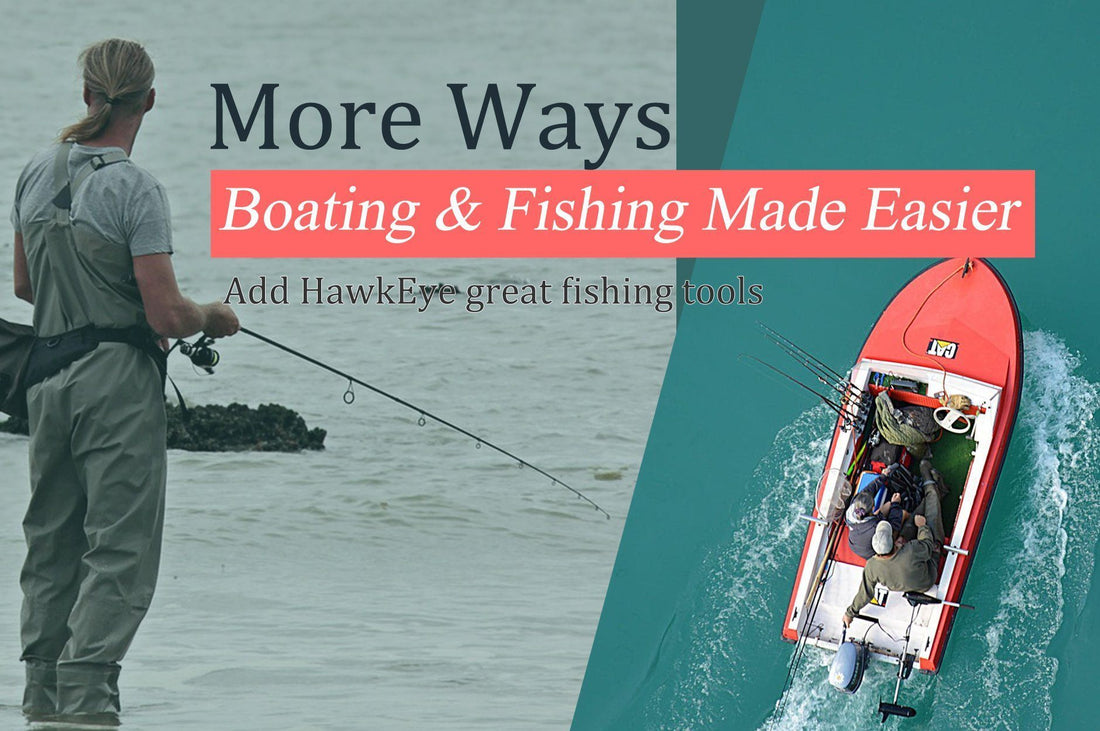 Arriving on the water with your boat in tow is a quieting experience. The fog sits above the water on a crisp morning like a blanket, making it look as if it will never change. Slipping your boat into the water when it is that quiet is a special time. Everything seems possible. For just a while, you get to have the river, lake, or stream it seems, all to yourself. Those moments are rare. Add to that special moment with great fishing tools.


In preparation for this unique time with Nature, invest in one of the FishTrax series tools that improve your success while on a relaxing day of fishing and use the SonicLaser Fish scale and measure fish weight, and length as soon as it is caught, with no uncertainty.

Get the results you want with the HawkEye fish finder. No matter what kind of boating vehicle you use, a kayak, speedboat, canoe, or if you decide to keep it simple and fish off the dock. The expandability of the Hawkeye fish finder readily adapts to your fishing needs.

Fishing for the Beginner:

Watching others out on the lake or river while driving in a car always makes you a little curious. Perhaps, you don't quite get why these enthusiasts are so fond of standing out in the water with a pair of high boots on or sitting all day so patiently waiting for a small fish to bite their hook. Wandering through a sports shop or local hardware store looking for something quite unrelated you pick up a fishing rod and decide to find out exactly what this interest in fishing is all about.


Now, you join the newbies. Interestingly enough not everyone has gone fishing. For many, this relaxing pastime is a first time experience. Nevertheless, once they do try it, they may find fishing. Like no other sport. The early morning fog and the quiet splash from fish blubbing at a bug are like no noise in the universe. It is ever so quiet. Yet oddly enough, you can hear it.

In the early hours, the night is slowly going to sleep, and the day is awakening. After you've nicked your fingers a few times and finally learned to bait a hook, the wait for your first fish begins. Perhaps you will make your first catch, not the conventional way but by way of catching the fish by the tail. Yep, if you move the line around enough, you can catch a fish by the tail as it swims by.

Fish are out searching for food too, and certainly, anglers do not mind accommodating for a reward. Of course, you are out searching for food too, the fish I mean. Make your search more efficient, with a SonicLaser or FishTrax. Stock your boat or tackle box with everything you need to have a great day out on the water, a Fish Trax fish finder, SonicLaser fish scale, handheld DepthTrax, or a DepthTrax that mounts on boats.

Family Time:

Fishing provides a wonderful chance for family time even if they have never fished. The most hilarious things can happen. Usually, there are those who prefer to fish without living food sources of any kind on the end of a hook. and once the fish is caught, they throw it back. Nevertheless, that is okay too. This is fine since many people fish for sport. However, there are those only interested in foods sold over the grocers counter. There are also the dedicated pole fishers who have no love for the rod and reel. In these cases, fish might be caught from a dozen interesting angles, and a fish is a worthy challenger for any angler.


Nevertheless, when using the electronic fish finder and you are sitting in a great fish zone. Your family members that prefer pole fishing can snag a fish as it swims by. In addition, fishing as a family teaches tolerance for others while having a bit of fun. When you are out with family, you may find it amusing at the number of hooks you bait for others. Nice stock of rubbery worms might relieve you of some work. For those who just cannot seem to catch a break, bring along a few steaks, disappointment will soon fly.

Despite any added activity with the family entertainment, the handheld fish finder is easy to handle, lightweight and will help you locate a spot for great fishing. This device tells users the temperature of the water, depth of the water, and air temperature. It is an all in one fishing apparatus. It works when you are using a canoe, boat, kayak, or without a boat. It is quite handy, and a nice item to have particularly if you are an out of doors person.

Boating:

Traveling in water and not quite sure where the bottom might be, solve the problem with a portable handheld depth finder. This device helps you locate and put your hook in the places fish are traveling. Before casting out the fishing line, it is nice to know you are not wasting your time in a dry spot.

The FishTrax finder lets you know there are fish in the vicinity. If commercial fishing boats took people out on a fishing cruise without knowing, customers were going to have the opportunity to get a little fishing action. The trip might not be half as much fun.


The FishTrax works if you are using a standup paddle-boarding device to stand on while fishing or a camping canoe. You will be able to find the fish with this electronic tool. Some anglers prefer to go diving, float tube fishing, sailing, or just sitting on the icy cold surface of a lake while fishing through a hole in the ice. Either way, you fancy, These fishing tools work.

Pros and Fish Finders:

There are so many ways to fish, stand up, sit down, fish off the Warf, use a raft, a rubber dingy, and if your lucky fish from the comfort of your deck. Looking at the water and knowing the way the water looks when fish are around is neat. This is skill seasoned angler's talk about. However, having the added help of electronic tools verifies your ideas.

A fish finder helps you find fish to use for bait to catch bigger fish and the depth finder keeps you from running aground. The airways are filled with programs showing people how to fish. Many experienced anglers utilize electronic fishing tools.