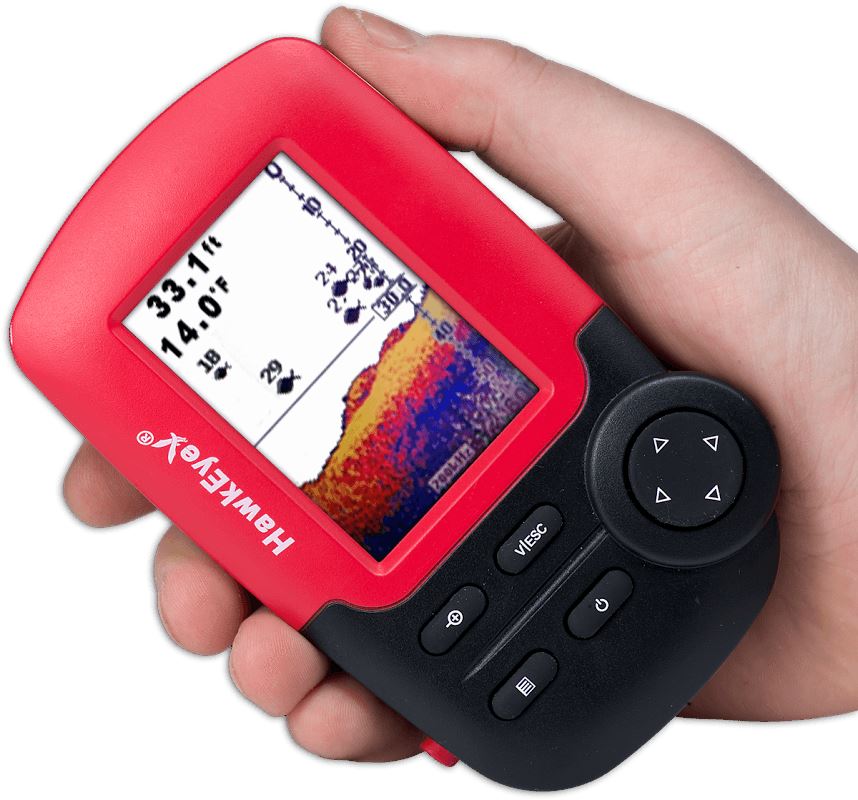 HawkEye® Electronics announces the newest addition to its family of boating and fishing electronics—the ultra-versatile FishTrax™ Fish Finder series. With all anglers in mind, HawkEye® has packed these units with the ultimate features. Whether you fish from a boat, kayak, canoe, shore or on ice, you'll find a FishTrax™ product that is perfect for every fisherman's needs.
The FishTrax™ Fish Finders come in three models:
FishTrax™ 1—for beginning anglers looking for affordability and ease of use.
FishTrax™ 1X—for intermediate anglers looking for advanced features to pinpoint optimal fish habitats.
FishTrax™ 1C—for experienced anglers who demand a high-definition fishing experience.
All FishTrax™ fish finders produce instant fish readings, bottom contour and composition, water temperature and depth readings in depths from 2.5 to 240 feet in 1/10th precision. Each model incorporates a glare-free VirtuView™ display, a floatable, troll-able and boat-mountable transducer, and is powered by four AAA batteries that last up to 30 hours—resulting in fish finders with unmatched portability and versatility.
The entry-level FishTrax™ 1 has a VirtuView™ ICON LCD that depicts sonar data in a series of icons, which provides valuable fishing data in an easy-to-understand readout.
The FishTrax™ 1X incorporates a VirtuView™ Dot Matrix LCD that can be adjusted to show raw sonar data, or FishTarget™ programming that displays fish as icons with a numeric depth readout. This model also includes auto-switching, dual-beam FishTrax™ Intelligent Sonar as well as a 10-level sensitivity adjustment, multi-level depth ranges, and auto-zoom bottom tracking that intensifies prey targeting.
The FishTrax™ 1C incorporates a full-color, high-definition VirtuView™ TFTN display and has three operating modes: Fish Finder, Data, and Ice-Mode Digital Flasher. The Fish Finder mode identifies the presence of fish, bottom contour and composition, and the overall depth of the water on the HD color display. The Data Mode enlarges depth, temperature, and battery voltage readings so they are easy to read from several feet away. The Ice-Mode Digital Flasher gives you realtime FishTrax™ sonar echoes like a traditional flasher, perfect for targeting suspended fish while ice fishing. It also incorporates user-selectable, dual-beam FishTrax™ Intelligent Sonar which allows fine tuning of the fish finder to adapt to any fishing style or platform. It has a 100-level sensitivity adjustment, multi-level depth ranges, and auto-zoom bottom tracking that intensifies prey targeting. There are two operating frequencies (200 kHz and 83 kHz) to fine tune sonar readings in shallow or deep water.
"The basis behind the design of the FishTrax™ series is to provide the end user with built-in expandability that allows them to adapt their fish finder to their fishing platform," said Greg Lentine, President of NorCross Marine Products and maker of HawkEye® Electronics. "Allowing the customer to add accessories to their FishTrax™—from suction cup display brackets to kayak and boat transducer mounts and IceShack™ soft cases for ice fishing—will give customers unmatched versatility. Their FishTrax™ fish finders will go from kayak, to dock, to boat, and onto the ice in winter, without the use of costly tools or complicated hardware installations."
All HawkEye® FishTrax™ Fish Finders have an IPX7 waterproof rating and include HawkEye's industry leading two-year warranty.