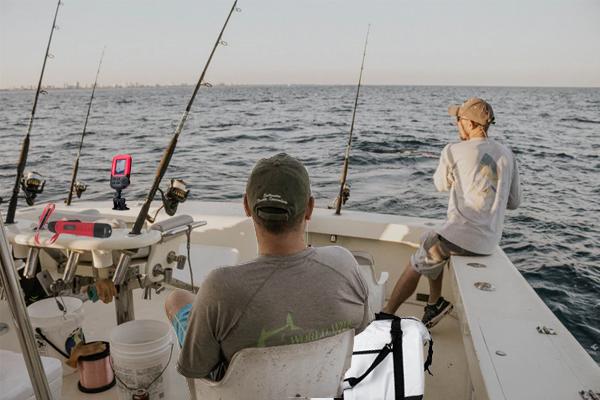 Technology has come in all forms of ways. It has advanced our methods of lives from our homes to agriculture and fishing. The boats are now improved to make fishing more fun and less tiresome. Some of the other advanced activities include Boating, Fishing, Paddle Sports Kayaking, Canoeing, Paddleboarding, Float Tube Fishing, Ice Fishing, Pier Fishing, Jon Boat Fishing, Shoreline Fishing, and Sailing. Electricity has been used in various ways as a form of advanced technology. Some of the fishing and boating electronic gadgets are as explained below.


DepthTrax-Boat Mount Series
Some enthusiasm comes along with going boating to the deepest part of the sea. Use DepthTrax Boat Mounts that is the best electronic device. This device is known to have a flat out-perform feature. It is this feature that makes it the bestselling depth finder in the universe. The fish finders of this era are known to have high-tech and multipurpose features.

Some of the multipurpose features include having a range of readings and a fish locator. It also has a bottom contour and thermoclines. Moreover, it also has sonar data. As much as it has advantages, it also has limitations that give it disadvantages. One of the disadvantages include not producing depth readings instantly. This limitation is brought about by the technology that is used to decipher between signals.

The size of their transducers also brings it about. The specialization of these transducers also contributes to this limitation. Get a HawkEye DepthTrax Boat Mount Depth Finders are engineered to meet one duty specifically. This duty is to trace the bottom and display the depth accurately. By the use of this device, you will no longer lack the knowledge of your depth. It is especially when you are running your boat on a plane. The HawkEye DepthTrax 2B mount depth finder costs $119.99. The HawkEye DepthTrax 2BX boat mount depth finder goes for $139.99.

FishTrax
HawkEye has produced the best FishTrax that is good for your fish finding activity. The best part about it is that it can be used in all four seasons. No matter where you go, you can use this device wherever you go on your fishing adventure. It gives you the chance to take control of your fishing experience. You only need to press one button to get the device rolling. It helps in instantly delivering fish, bottom composition, bottom contour, and water depth.

It also helps in giving the temperature readings of the water. Every model has a display of VirtuViewTM and a troll-table. Moreover, it also has a floatable and a transducer that is mountable to the boat. It has 30 hours of battery life due to having a four-AAA battery. This fish finder is recommended for its standard versatility and portability. The price in the market ranges from $99.99 to $149.99.

Soniclaser Fishing Scales
HawkEye has a sonic laser fishing scale that is electronic. This digital fishing scale is the best-advanced device that can help you when you go fishing. This electronic fishing scale displays the exact fish weight that rounds off to the nearest oz. It also has an ultrasound sensor that is integrated and laser-guided. Also, it produces readings that have a length that is touch-free. It prevents you from handling fish to get an accurate reading of the measurement. Using the device is also simple.

All you have to do is to hang the tail of the fish against the boat. You can then press the button on the device, and the length of the fish will read at the LCD. The electronic fish scale is advantageous as it has memory storage. You can, therefore see your catch against the local regulations. The price of the HawkEye SonicLaser XP electronic fish scale goes for $99.99.

Boat Mount Depth Finder Surface Mount Bracket
HawkEye produces not only boating and fishing devices but also accessories. The boat mount depth finder surface mount bracket is an accessory. It is used upon all the HawkEye boat mount depth sounders. It is impact and weather resistant that has a 360-degree swivel. It can be mounted anywhere at whichever angle.

The device fits most 2.5" gauges that can be produced by other manufacturers. HawkEye boat mount depth finder surface mount bracket has high rates and is highly recommended. Moreover, it has an affordable price of $19.99. The device is compatible with the DepthTrax 2B, DepthTrax 2BX, and DepthTrax 1B. It is also inclusive with a surface mount bracket and the anti-vibration adhesive pad. Moreover, it is easy to mount.

DepthTrax Handheld Series
Imagine having your best fishing and boating device at the touch of your hands. The DepthTrax Handheld series is a straightforward, featherweight, and useful device. Among the produced depth sounders, it is the most versatile handheld device of them all. This device is suitable for the production of the best depth readings instantly. They also produced readings of the temperature of the water.
Additionally, it produces readings of air temperatures. You can use it as a backup device for your pleasure boat as a depth sounder. Alternatively, it is used to scan for channels at your dingy. The best part about it is that you can use it during the winter season to shoot through the ice. You can use it before you cut through the hole. It can be used on your kayak as you go for kayak riding. It is also used in your canoe to take depth readings during the fly. You can use the DepthTrax Handhelds in any way you prefer. It is one of the pieces of equipment you should not leave behind as you go boating. The HawkEye DepthTrax 1H or best known as Handheld Depth Finder, costs $99.99.

Traxmount Suction Cup Display Mount
The HawkEye Traxmount Suction Cup display mount is an accessory that you will need. It is necessary on your boating and fishing appliances. It is mounted on the FishTrax Fish Finder. It can be mounted on any flat surface. It has an adjustable mounting bracket that has a suction cup. It can be used on your small boat, kayak, or canoe. You can combine it along with your Traxmount Weighted Display Mount Pad as a way to maximize its usability. Alternatively, you can use it with your Traxmount Mounting Disk for the same purpose of maximizing its usability. For the device to lock in place, you require to use a smooth surface. The device is compatible with any FishTrax Finders. It is also used with the Traxmount Suction Cup Mounting Disk. For the device to perform accordingly, you require a suction cup display mount. It goes for a cost of $9.99, which makes it affordable.

Sailing
HawkEye also produced sailing electronic fishing and boating appliances. For those who love hyper-connectivity, they will enjoy going for outside experience. Sailing is an excellent way to reconnect with your fellow peers. HawkEye Boat Mount Depth Finder is a perfect addition to your sailing object. The other electronic device that you shouldn't leave behind is the Hand Held Depth Sounders. It will help you to determine the depth below the keel instantly. It also helps with safety measures as it has an alarm. The alarm is to warn you when sailing where there is shallow water before it is too late.

The Final Word
Going out for sailing, fishing and boating are fun. However, it will be more fun when you carry along with electronic devices. Some of these devices are not just for fun but also your safety. Ensure you get the best device before leaving your home.