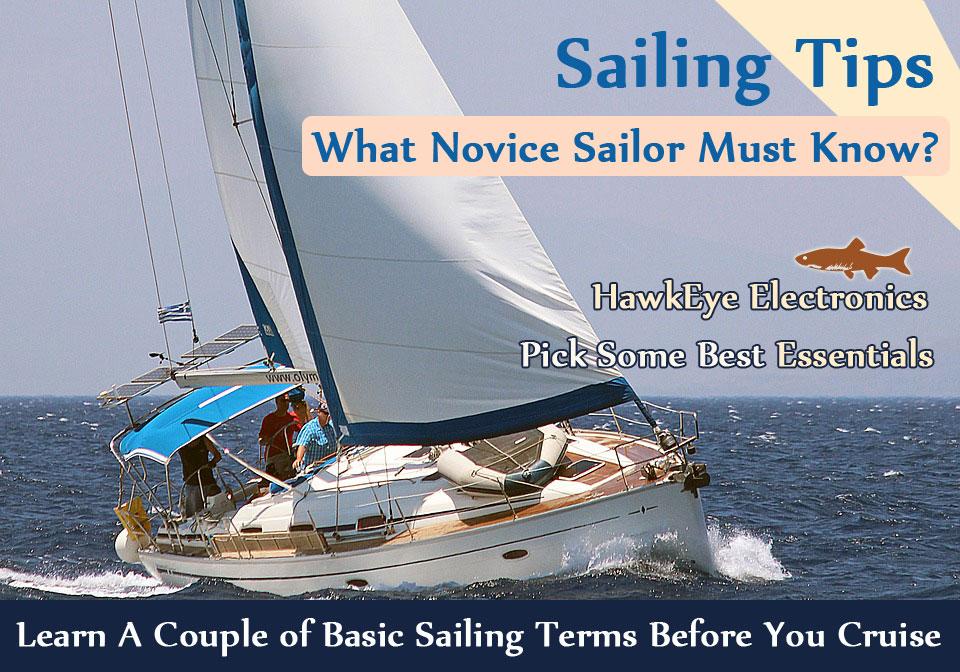 Summer is always the best time to visit the waters, and if you are an adventurous person, you should consider sailing. There is so much to do and see when it comes to sailing. It is not only a rewarding but also a healthy hobby, especially if you want to know how to use the ropes correctly. Here are more benefits of sailing:

• Cardiovascular training
• Stress relief
• Improved communication skills
• Enhanced flexibility and muscle strength
Just like other activities, there are some essential things you must know before you start to sail. Whether you are cruising for a day or week or understanding the secrets for the future, there are essentials thing you must know for a safe and fun cruise
Let's get started, shall we?
Know Where You Are Going
Before you go for your cruise, it is vital to your destination. It does not matter if it is a lake or an ocean or your skills or experience. You need to be familiar with the routes you will be taking, the water conditions, and the duration of the cruise. This will help make your experience safe and fun.
Choose Your Ideal Boat
As a
first-time sailor
, you need to know there is three primary charter experience at your disposal. Bareboat chartering is not advisable for newbies because it offers the bare bones of the cruise, the boat. On the other hand, a skippered charter is ideal for small boats with a captain. However, the crewed charter is the best for first-time sailors because there is so much to enjoy, plus you have other crew members with you.
Pack the Essentials
So, what should you bring in your cruise? Well, things such as clothes, swimming suit, flip-flops, smart clothes and beach towels are a must. Other than these, there are other crucial things you must bring along.
Firstly, you need to have your ID card, driver license, or travel documents valid passport. You must have an original
sailing
license if you are the one chartering the boat in case of police checks.
Unless you are cruising with a big catamaran, you need to carry
soft bags
; otherwise it will be challenging to store hard suitcases. Look for a bag that has no frame and is soft. Your cabin will have shelves and cupboards, where you can put your items, but the
soft bags can be put away in outside lockers
.
You will need to carry suitable shoes with while soled. You need shoes for walking on water, reefs, pebbles, underwater rocks. You will also need deck shoes and shoes when walking on board. To protect yourself from sun rays, you need sunscreen, a pair of sunglasses, and a hat.
Even though you may not require warm clothes, it is a good idea to pack them, in case of windy days or chilly evenings.
You also need to carry with your cables and chargers. You may not be able to use the typical charging system while on a cruise, so you need to bring a 12V car USB charger. You may also require an adaptor for plugs. Most modern boats let you connect your mobile device to the surround system, so, make sure to carry an AUX cable.
Make Sure That You Bring Food and Plan a Menu Around the Cruise's Details
Whether you want to cruise for a day or a month, food is essential. While creating a plan, you should consider a few things. Firstly, consider the number of crew members and any other individual. Is any person allergic to food? Which food is ideal for retaining on board? Although you may be tempted to bring fruit baskets and sushi,
choose food types that will practically last for long
.
Learn A Couple of Basic Sailing Terms Before You Cruise

It is essential to learn some basic cruising terms like gybe and lack, or the difference between starboard and port. Knowing these terms will enable you to help others to sail the vessel. Once you are done with a cruise, you can come back and learn more words and phrases including rum, beer, and much more.

If you do these things, you will be able to enjoy your trip on the waters, regardless of whether you are a novice or an experienced sailor of the seas. The best way to learn these terms and phrases is to sign up for an ASA sailing course. There are many numerous schools from which you can sign. Just find the one that is near you.

Take Note of the Boom
The boom is the conspicuous, heavy bar that is located at the bottom of the mainsail. The boom swings typically on the boat every time you gybe or tack. You do not want to get hit by it. It may knock you overboard or seriously injure you.
However, you can easily avoid it as long as you are attentive. When you hear people talking about jibing or tacking, ensure you are down in the cockpit and far from the boom.
Experienced sailors have mastered how to control the boom movement
. They normally sheet in when making a gybe or tack, because it can easily cause wear on the boat if it is left to move anyhow across the ship.
Conduct Research on The Wind, Tide, and Weather Conditions

For many people, they assume you can head out to sail because the current climatic conditions are favorable. While it may be sunny, you really cannot predict how the weather will behave in the coming hours. You cannot project whether or not a store could arise. Weather at the sea tends to change a lot, and it is highly unpredictable.

Therefore, you must know about the tide and wind forecast beforehand. Before you set out to sell on the waters, it is crucial to put your safety first before anything else. However, everything will be handled smoothly if you join a tour, but it is still wise to double-check everything.

Sailing with Pets

Do you want to go on a cruise but do not want to leave your cat or dog at home? While there are some things you need to take into consideration before you bring your furry friends on board, such as choosing a pet-friendly destination, lifeline netting, and vaccination, you are allowed to bring your pet with you. However, you will have to contact a Charter Consultant who will be able to help you plan everything and handle the booking process.
Do Not Forget to Carry Your Map, Compass,
GPS
and a good
Depth Finder
If you forget any other thing, do not forget to
carry your depth finder with you
. It is the
best navigation tool for you
as running around can ruin even the best sailing adventure. The good thing is that nowadays hand held models like the
HawkEye DepthTrax
make installing (or not) a
depth sounder
easier than ever.  

Carry Your First Aid Kit

When cruising, it is common to become sick and experience seasickness. So, you must avoid certain foods. While staring at the horizon sometimes help, sometimes you need something extra. Many sailors like to carry Dramamine, which is an over-the-counter drug. If you do not want to take drugs, wear wristbands around acupressure areas. But to stay on the safe side, carry a first aid kit, it will help you in case of injuries or any mishaps.

Sailing is a royal activity that should be respected. You should always remember you are not alone in the boat. Be ready to assist in case of anything. Even if your cruise is for only a day, it does no harm to help. It goes a long way.