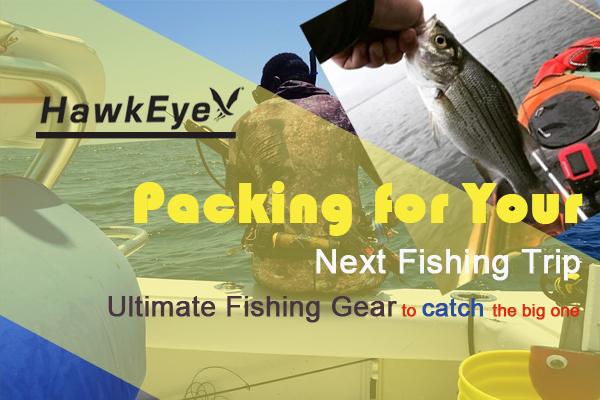 Every summer is the perfect time to break out the fishing pole and find the perfect spot to "catch the big one". Once you do find the ideal location, you can prepare all of your gear in order to catch the variety of fish that waits in the depths. To get prepared for your summer fishing adventure we have listed some gear that is always a good idea no matter what skill level you are as an angler.


Fundamentals of Fishing
The fishing industry has a wide variety of gear that ranges from technology down to the type of pole that you use. With that, we can honestly suggest some that we feel you would get the best use out of. However, before you head out, do not forget to pack a few of the fundamentals that make fishing possible in the first place. Plus, these items are also perfect no matter what the location is you are casting from.


Fishing lures – Fishing lures come in an array of designs that are made for every occasion whether it is for conditions of the water or to catch a certain species of fish. A few choices include the Kastmaster Spoons lure as well as the Curly Tail Grub lure. These two lures have been proven to be perfect for several fish species. Also, make sure to have a few jigs in case you are after a nice bass. If trout is your fish of choice, then you cannot go wrong with the help of a few panther martins. They will be very enticing to the fish as they spin through the water.
Fishing Sinkers – Like we see with fishing lures, there are also many selections when it comes to fishing sinkers and sinkers. To get the best available you need to do your homework to make sure you have the right one for the fish you want to catch. You also need to make sure to have a sinker that helps your line to stay put. To prevent snagging in rocky fishing spots, your best option would be with a walking sinker. These sinkers will slide over sharp edges with no problem. Another option is to have a sinker known as split shot or an egg sinker with you. Both are snag resistant and will provide a stress-free fishing experience.
Durable Fishing lines – If you did not now, the line that comes pre-spooled is known as a monofilament and is the most widely used. With a high amount of adaptability, you are able to view a monofilament line in the water. This type of line also stretches and easily wraps around the spool, but it can also cause tangling to occur and difficulty with reeling. Another line is known as fluorocarbon and is not as easily seen. This line does not stretch, however it still has problems with maintaining its form making it prone to cause knots. The third type of fishing line is a braided design that is considered to be the most durable of them all. There is no stretching, it is visible, and it will not knot to a reel as you reel it in. This type also permits further casting of the line. You'll love that each of these lines are pre-weighted so you'll have the perfect line for your situation.
Think safety – Although you may be excited to get out there with your rod and reel in hand, you need to still keep safety in mind. Having a great fishing experience can easily turn for the worse in a second. This is why you need to be prepared by having a well-equipped kit for first aid purposes.
Sun protection – Fishing usually includes being out in the sun for an extended amount of time. So it is equally important to be protected from the sun by using a high SPF sun block. You may not realize it, but the sun's UV rays are known to reflect off of water. So when you have a mysterious burn on your chest and face, you'll know why.
Life jackets: It is always a good idea to be safe than sorry. This is especially true when your fishing trip involves being on a boat. In many circumstances state law requires life jackets to be worn by all persons at all times.
Fishing Reels and Poles
Now that you have the fundamentals covered, you now can gather up the equipment that is the most important, such as a fishing reel and pole that is dependable such as the Zebco 202/404 Spincast.
The Zebco is perfect for any beginner that plans to do some great
fishing
. It has multiple spincast systems that consist of a rod that is medium and the other being medium-lightweight. The reels include hook keepers and are both constructed out of ABS and
stainless steel
. They also include pre-spooled reels that allow you to just bait it and cast. A great feature that the Zebco includes is grips consisting of EVA foam that provides a great amount of support as you endure long time periods of holding your pole.
Fishing PFD
Having a fishing PFD will provide you with extra pockets while you're standing in the water. Wearing one prevents you from having to walk back to the shore to rebait or resupply. With many different colors available, the most popular colors include orange or red. Some features that are nice to see includes a design that makes it perfect for holding a rod, use in a kayak, pockets galore, and its use as a floatation device.
Spacious Fishing Tackle Box
Having a spacious
fishing tackle box
is an absolute must if you are serious about fishing. The tackle box will keep your gear organized before, during, and after you are done fishing. As far as quality tackle boxes are concerned, the 7-tray hip roof by Flambeau. With a long history in the fishing world, the Flambeau is a tough tackle box that is also resistant to the elements and keeps your contents dry and secure.
After opening, you will notice several trays that provide many individual sections for storing every type of gear you can think of. Besides that, it also contains a handle that locks and bait rack. Because of the huge amount of space and individual storage areas, having all of your gear in one tackle box will not be ab issue.
Fish Finders
There will always be times where you wish you knew where the fish were so you would not have to wait for a bite. Thankfully, having a
portable fish finder
like the
FishTrax 1C
from
Hawkeye Electronics
will be able to help you locate every fish that is around you whether the water is shallow or deep.
The FishTrax 1C is able to provide complete functionality and performance you will come to love in a fish finder. It also includes advanced technology and VirtuView that is high definition, full color, and the most accurate on the market. The FishTrax 1C includes 3 performance methods that are all unique in helping you locate the most fish. With its
FishTrax Intelligent Sonar
you will have the capability to achieve the highest quality sonar possible for a
fish finder
. This higher quality sonar is also highly adaptable to any approach you may take towards fishing. A few of the features of this highly advanced sonar include adjusting to sensitivity, tracking, and various ranges of depth. While targeting fish, alarms are utilized to increase the targeting.