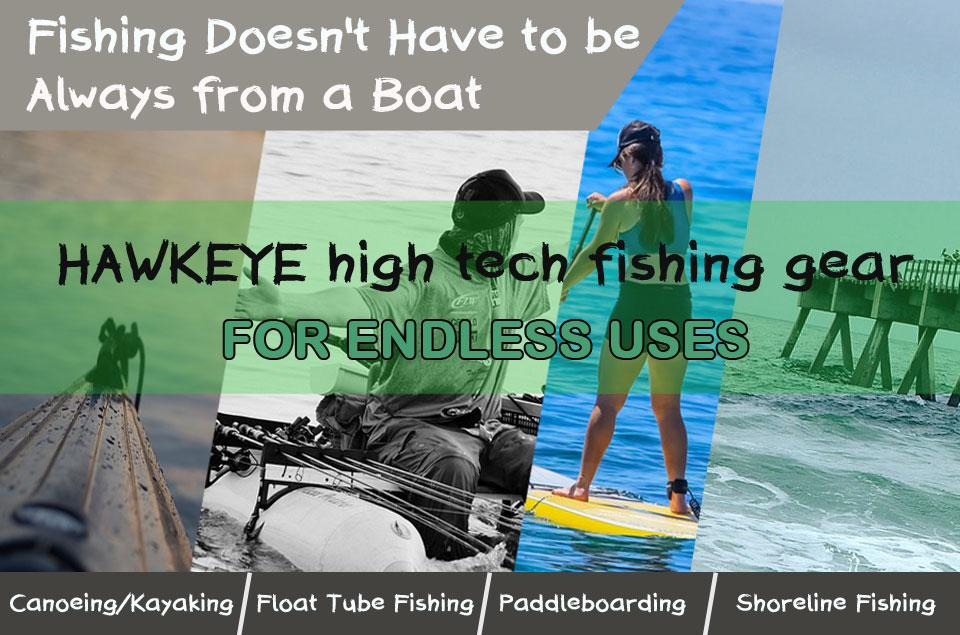 Outdoor adventures should be exciting and fun.
Break up the winter blues with some ice fishing or snow shoeing through nature. During the warmer months of the year there are many recreational ways to enjoy water activities. A hike through the woods that will lead to a tranquil lake or pond might be just what you need to become rejuvenated and refreshed. Maybe a canoe trip or a kayak trip down a river or along a shore line will release your tension and bring you back to nature. No matter what type of water you end up on you may find the relaxation associated with a nice afternoon fishing nearly unavoidable. Of course you do not need to hike to a secret lake to catch some fish and unwind. You can simply mosey over to a pier and fish right there or stand on the shoreline and cast your line. Before you head out into the great outdoors make sure you have all of your necessary gear for whatever adventure you are seeking.


What Are Some Fun Ways To Fish?
Pier Fishing
Jon Boat Fishing
Did You Know You Can Also Fish While Enjoying These Activities:
Canoeing
Kayaking
Paddleboarding
Boating
Bring The Essentials When Plannig For A Day Out
Whatever activity you are planning to embark on you need to make sure you have the right gear. Whether you are fishing from a boat or off a pier you will want to make sure you are dressed for the weather and have water and healthy snacks with you so you stay hydrated and curb your hunger. Protein rich healthy snacks are ideal for days spent out in nature.

In addition to the proper food and attire you will want to have the right gear for your fishing trip. Make sure you have your rod and reel and tackle box but you definitely do not need to keep things basic from there. A depth finder, fish finder and sonar device will all help you locate the type of fish you are hoping to catch. These are honestly ideal for any type of fishing adventure and should be consistently found in your tackle box.

Turn A Athletic Activity Into The Opportunity To Fish
Canoeing, kayaking and stand up paddle boarding are often very popular leisure lake activities. These require balance and stamina. You might be doing this to get some exercise or just to spend some time on the water. What if you are out on the lake or river and spot some fish and feel like it would be an opportune time to cast your reel? You will want to have your depth finder and fish locater as well as your reel. When canoeing you have a bit more room in your boat to stabilize your pull while reeling in a fish. Fishing from a kayak can be a bit of a challenge but it is completely doable. When stand up paddle boarding you will want to drop your line directly in and you may want to consider sitting to stabilize your board a bit more. Sitting on the board will give you more balance and you will have a greater chance of remaining topside. But who knows; maybe you will need to cool down after some time out on the water.


Sail Away
When it comes to boating and sailing the options for fishing are greatly enhanced. Instead of a portable depth finder you can use a boat mount depth finder and you will also want an electronic fish scale so you know whether to catch and release or catch and keep. Fishing from a sail boat or other boat gives you flexibility that other water crafts do not allow. You are motorized and can reach further portions of the lake and fish for fish that are at greater depths. While out at greater depths the portable or mountable fish finders will help you locate exactly what you are looking for with the quick flip of a switch.

Brands Make A Difference
When it comes to reliability there are many brands that might come to mind but reliability combined with accuracy and durability spells out HawkEye. HawkEye are designed for everyone. The products are tested in a lab and in the water. Most boats average 26 feet in length or less but the HawkEye brand of depth finders, scales, and fish finders and other gear will all accommodate both the large and small water crafts. It does not matter if you are out on a large sail boat in the middle of a great lake or the ocean or if you are on a kayak in a creek. The reliability of HawkEye cannot be beat. In addition to the reliable reads and extreme portability of the products; the HawkEye products also cannot be beat when it comes to price. The quality for the price makes these products easily obtainable for any budget. There is no need to spend a large amount of money on high tech fish gear when you can obtain high tech fish gear at affordable pricing.

Enjoy Nature
No matter what activity is calling make sure you pick up and get out into nature. Hike on the trail that leads to your favorite creek, river, lake or pond. Grab some friends and kayaks or canoes and explore the water ways and fish for fun or sport. Fuel up your boat and hit the deeper water to explore, relax and cast that line into the deep blue. Don't let the weather hold you back from your favorite activity. Even if it is cold you can get out on the lake and relax with some ice fishing inside your ice fishing shed with some good friends and big fish.