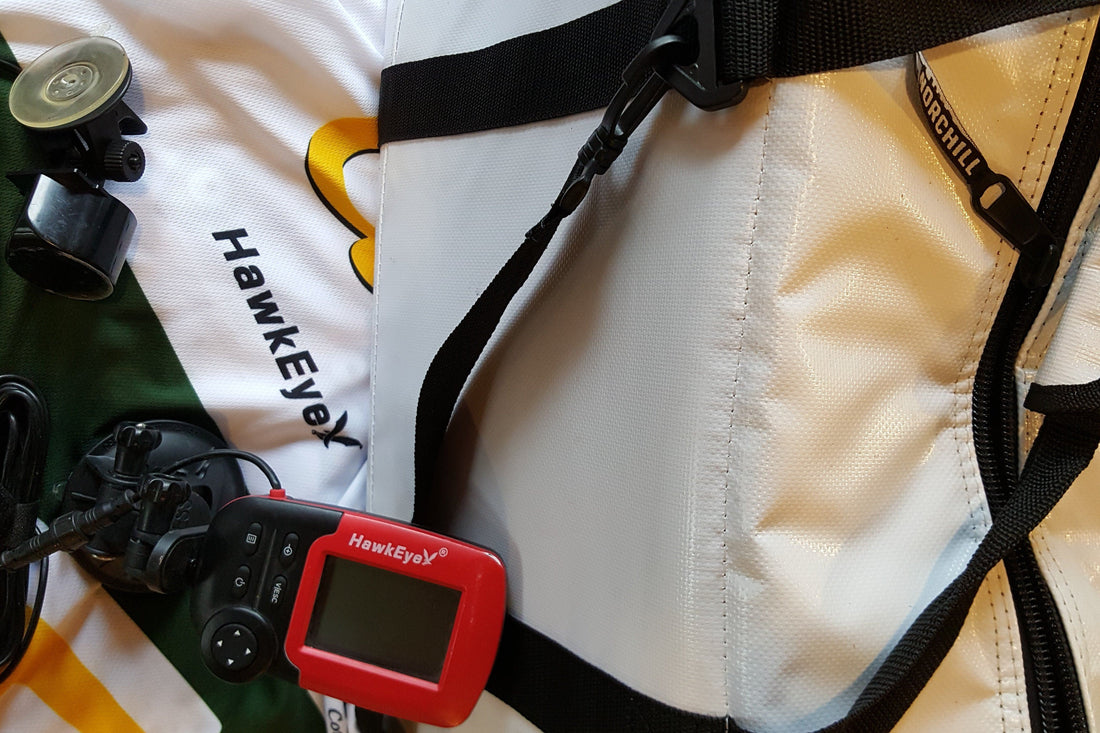 Posted by Jim Zaleski, Tournament Angler and Award Winning Radio Show Host
I recently ventured to the great white north, but since I was headed there in mid-June the only squalls I had to look out for were those made up of mosquitos or black flies. Luckily I had that covered and we enjoyed a wonderful week away not worrying about the buzz of the bugs nor the buzz of my cell phone.

There are some absolute must-haves for a fly-in trip where the weight you carry is limited and the space is at a premium. In addition to the mandatory bug repellent and sunscreen a trip like this has to include a dependable, lightweight and portable fish finder and a lightweight but heavy duty boat cooler bag are a must.

The FishTrax 1C from Hawkeye Electronics is the ultimate portable and light weight fish finder, it is powered by four AAA batteries cutting down on weight but not on options. Featuring the VirtuView™ HD Color Display, water depth detection, fish depth identifier, HD bottom landscape painting and VariableZone™ Water Temperature you can't ask for much more out of a portable system. For those venturing north during solid water season it also has an ice-mode digital flasher.

During my trip I used a portable boat mount that worked perfect on the smaller 14 foot Lund provided at the remote camp site. I also brought a small solar battery charger so I didn't need to lug extra batteries along, I just let the solar panel charge during the day then charged the AAA batteries off the solar battery as we sat around the campfire. The unit runs for about $200.00 and you can check it out at Hawkeyes website .

My boat bag, which for some is the most important piece of equipment you can have on a remote fishing trip, was the Norchill Boatbag. I opted for the medium 24-can bag which had enough space for my beverages, food and ice packs. The exterior pocket also had room for some snacks and my emergency walkie-talkie. Soft and flexible, it fit under the boat seat or in the bow storage of the boat for easy access. The tough PVC tarpaulin shell held up just fine and also wiped off easily after a day on the water.

Not only did it serve a great purpose when on the trip but after drying off the inside it doubled as my clothes bag to travel home with my rain suit and extra outdoor gear. Check it out at the Norchill website, it's available in two sizes to best fill the needs of your trip.
Jim Zaleski
As far as protection from bugs and the sun I opted for Sunsect, the perfect two-in-one product. I was able to pack light and cover all my bases with a relatively small, under eight dollar, 2 oz tube of Sunsect. At 15-SPF it provided more tha
n adequate coverage from the sun, while its patented proprietary formula, including the active ingredient DEET, kept me safe even when I was in the bug infested backwoods during a few portage trips. Trusted for years by our military the product is now available to the public. Get all the details and read the story about Sunsect here.
By thinking ahead and packing smart with products such as I described above you can make a fly-in fishing trip as comfortable as if you packed your own boat along in your duffle bag. Until next time keep your lines tight and your drags loose.

Jim Zaleski is co-host of Fishing the Four States with Zac and Jim and has been recognized with several awards for his radio segments on fishing and the outdoors. Visit the Facebook page to hear more from Jim and his co-host Zac Udock.