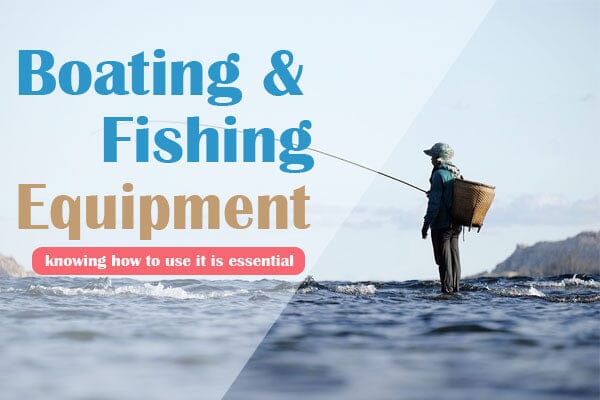 Boating and fishing are great ways to enjoy the outdoors and spend quality time with family and friends. From enjoying the scenery to participating in competitions, there are a variety of activities that can be enjoyed on the water. In order to ensure you have a successful trip, it's essential to have the right equipment, including boating and fishing electronics.

Modern technology has enabled the development of several devices that can improve your experience on the water. Many options are available, whether you're searching for a fish finder, GPS, or a radio. These electronics can help you find the best fishing spots, safely navigate the waters, and stay in touch with your group.

Benefits of fishing and boating

Developing problem-solving skills

In these activities, developing analytical skills helps you consider the factors that can affect your success. This includes weather, the tides, the currents, and the type of bait and fish you want to catch.

Improved concentration

Boating and fishing require you to pay attention to the environment, the sound of the water, the boat's movement, and the fish's movements. This helps to improve your concentration, focus, and awareness.

Reduce stress

Being out on the water, surrounded by nature, can be calming and peaceful. The sound of the boat cutting through the water, the smell of the clean air, and the view of the sun setting on the horizon can all help to reduce tension. The physical activity of fishing and boating also releases endorphins, further helping to reduce stress.

Develop discipline

Boating and fishing require discipline. You must follow safety rules and regulations and practice responsible fishing. Being disciplined is essential for succeeding in life.

Encourages physical activity

Most of these activities are physically demanding. You must use your arms and legs to paddle or row a boat and be able to stand for long periods when fishing. All of this physical activity can help to keep you fit and healthy.

Activities Involved

Boating and fishing can occur in freshwater, saltwater, or a combination of the two and in different weather conditions.

Paddle Sports Kayaking

Kayaking is a popular recreational activity that involves navigating with a double-bladed paddle. It requires a good understanding of the boat's design and how to use a paddle to power it. You can do it in calm bodies or raging rapids. Kayaking competitions, like freestyle championships and extreme kayaking contests, are held for more experienced kayakers.

Essential electronics for a successful mission include a kayak-mounted GPS, a waterproof flashlight and VHF radio, and a waterproof dry bag. Maps and a compass are also encouraged to stay aware of the situation.

Canoeing

Canoeing is similar to Kayaking, but there are a few differences. Kayaking uses a double-bladed paddle, while canoeing uses a single-bladed paddle. The paddler in a canoe kneels while the paddler in a kayak sits.

To participate, one needs a GPS device or app, a waterproof and durable smartphone or camera, a radio system, an emergency beacon, a waterproof, buoyant satellite phone, a solar-powered charger, and a waterproof dry bag to keep electronics safe and dry.

Paddleboarding

Paddleboarding is an exciting water sport that involves using a paddleboard and a paddle to move across the water. It is an excellent way to explore lakes and rivers and for a full-body workout. To paddleboard, you can kneel, lay down, or stand up, depending on your skill level.

For those new to the sport, it is vital to have an experienced guide along to help you understand the techniques and balance. You can become a great paddleboard surfer with proper practice and training.

Sailing

Sailing ships are larger than smaller marine vessels, allowing them to accommodate more people and travel to deep and dangerous locations. The ships can harness the power of the wind to propel them, making them well-suited for long-distance travel, exploration, and military purposes.

This makes them ideal for recreational and sports sailing and cruising with friends or family. You will need a GPS navigation system, an autopilot, a depth sounder, a VHF radio, a weather radio, a first aid kit, and a radar system.

Float tube fishing

Float tubes are the perfect way to fish in calm bodies of water, as they are lightweight, portable, and provide comfortable support. They keep the angler's body slightly above the water and provide buoyancy and stability, so they don't have to worry about tipping over. Additionally, the tubes come with a comfortable seat, making it easy to relax and enjoy the fishing experience.

Ice Fishing

Ice fishing is an exciting way to spend a winter day with friends or family. First, you must have all the necessary items for the activity, such as fishing lines, hooks, baits, spears, storage materials, and an ice auger. After setting up your gear, you must find a suitable spot to fish. This involves drilling a hole into the ice and expanding it to create a fishing area. Once you are all set up, you can begin fishing. It is essential to make sure you are dressed warmly to enjoy the activity, as the cold weather can be pretty harsh.

Pier Fishing

Whether you are a beginner or an experienced angler, pier fishing is an activity everyone can enjoy. For the best chances of success, it is essential to do your research beforehand. Learn which fish species are available in the area during certain times of the year and which bait and gear are best for these species. If the tide is high, scout the site for any potential hazards.

On the day of your pier fishing expedition, bring necessary items such as sunglasses, a pier net, battery-powered bait, and a storage container. These items will ensure your pier fishing experience is enjoyable and successful. Pier fishing is a great way to make new friends, try different techniques, and catch fresh fish.

Jon boat fishing

Jon boat fishing is executed with a long, flat-bottomed boat. These boats are perfect for navigating areas with shallow water, such as ponds, lakes, rivers, and marshes. They are light and portable due to their aluminum construction and offer plenty of room for fishing gear and passengers.

The boat usually has a trolling motor, oars, squared-off bows, and a flat bottom. While Jon boats may require a lot of fuel to run, they are affordable to acquire and maintain and are an excellent option for those who only plan to fish for a short period. They can be customized with comfortable seating for added comfort.

Shoreline fishing

Shoreline fishing is a great activity to take part in if you're looking for a relaxing way to spend your day. It doesn't require much equipment, making it perfect for beginners, and it's a great way to spend time with family or friends.

You'll need a fishing rod and reel, bait, a first-aid kit, and a storage bin for your caught fish to get started. Once you have all the necessary equipment, you must find a spot along the water's edge and start fishing. You can sit back and enjoy the tranquility of the water and the sounds of nature as you wait for a bite.
Conclusion
Boating and fishing offer a great way to enjoy the outdoors and spend quality time with family and friends. You can make the most of your time on the water with the right combination of skills, discipline, and equipment.