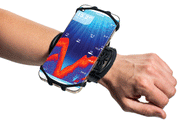 FishPod® Armband Smartphone Holder
The FishPod® Armband Smartphone Holder allows you to attach your smartphone to your arm for easy viewing of our FishPod® Portable App. The Armband Smartphone Holder is perfect for use in kayaks, canoes, and small boats and even from the shore or dock. Its corrosion-resistant, composite material can take the punishment of the elements and is fully adjustable for all size smartphones. The strap is adjustable to fit all arm sizes and can be rotated for easy viewing.
Regular price
Sale price
$19.99
Unit price
per
It actually works. Haven't had a chance to use but once, but I am going back. It is awesome.
It is actually a great invention. Pretty cool to help a lot of fishers out that doesn't have boats.