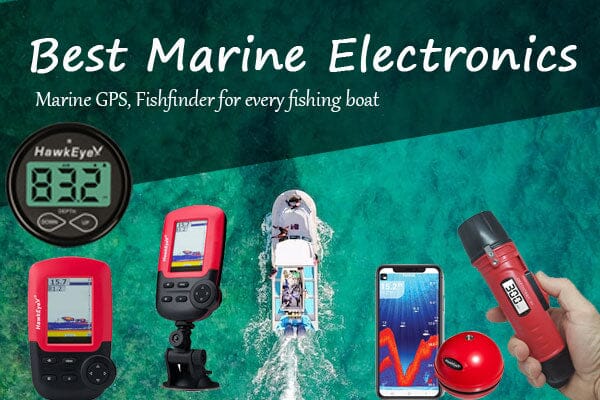 Fishing and boating electronics can make all the difference between an enjoyable day on the water and a miserable experience. If you're looking for some new gear, take these tips from our team of experts to see what we recommend.


Furthermore, sometimes it's fun to have something different in your boat.


ELECTRIC TROLLING MOTOR


The trolling motor is a great way to move your boat while
fishing
. It allows you to fish in places where you can't paddle or row, and it can be used to move your boat in and out of the water. This means you don't have to worry about getting stuck on rocks when trying to pull a lure from one side of the lake or bay into another.
NAVIGATIONAL LIGHTS


Navigational lights are required by federal law and must conform with the specifications of the Coast Guard. The red and green lights indicate the direction of travel on lakes, rivers, or streams when you're out fishing. Navigation right is good for
Float tube fishing
because it helps guide your boat back where it started from if something goes wrong in the water (like a sinkhole). Green light must be visible from 360 degrees so that other boats can see where you're going when they join your float trip.
WATERPROOF SPEAKERS


You'll want to ensure that your
fishing and boating electronics
are up to the task of keeping you entertained. After all, who wants to be bored? Music is an excellent way for people to pass the time on boats or in small boats, and it can also help them relax, focus, stay motivated and even get in the mood for their next fishing trip.
When selecting special waterproof speakers for your boat, it's important that they have good sound quality so that you can enjoy all kinds of music without worrying about losing any of your favorite tunes due to water damage or accidental spills.


RADARS AND CHART PLOTS


A radar is a device that uses radio waves to detect and locate objects. Radar can be mounted on the boat, or it can be used in conjunction with charts. Chart plotters are
GPS devices
that display charts, depth soundings, search and rescue data, weather information, and more on a monitor screen. Chart plotters are especially useful for canoeing because they allow you to view your position on the water surface as well as other important information like wind speed and direction at any given time (or even during your trip). They also make it easier than ever before to see where other boats are located near yours so you won't collide with them while out on the water.
DEPTH SOUNDERS AND FISH FINDERS


A
depth sounder
and a
fish finder
are essential boating electronics that you should consider adding to your arsenal. They can help you avoid obstacles, find fish, and have fun in the water.
Depth sounders
measure how deep the water is by sending out sonar waves. These waves reflect off objects in their path until they reach an object at depth—the depth then determines how far away it is from where they began their journey.
HANDHELD GPS


A
handheld GPS
is a small device that uses satellite signals to determine your location. GPS devices are a must-have for boaters, fishermen, and anyone who likes to go outdoors. They can be used to find your location, track your progress and record your trip on the device's memory.
VIKING DRYSUITS AND WADERS


Viking drysuits and waders are made from high-quality neoprene that is both durable and comfortable. These waders can be used for any type of fishing, whether it be in fresh or saltwater, so you don't have to worry about being caught out in the elements with your gear on. They're also available in a variety of sizes and styles to fit the needs of any angler, making them perfect for beginners who want something simple yet effective but also advanced fishermen who need something they can rely on when they're out on their boats all day long.


POWER-POLE ANCHORS


Power-Pole Anchors are great for anchoring a boat in a current or wind. They're easy to use and can be set up in seconds, allowing you to anchor quickly without wasting time or energy on the anchor. Power Poles are made of high-quality materials that ensure they'll hold up under harsh conditions such as strong winds and waves. This makes them ideal for holding down heavy loads like boats, kayaks, and fishing gear.


UNDERWATER CAMERA AND DRONE


When you're out on the water, you can use your underwater camera and drone to capture some of the most impressive sights. In addition to taking pictures and videos of underwater life, you can also record footage of your trips to relive them later on.


VHF RADIO


A VHF radio is a must-have for boating and fishing. It's used to communicate with other boats or land-based parties, as well as to call for help if you get into trouble. The best VHF radios are waterproof, which can be very helpful if you're in the water all day long. Don't forget a floating keychain VHF radio storage case. If you drop your radio overboard while it's clipped to your lifevest, you can watch it sink like a rock. With this floating case, it stays on the surface, bobbing up and down until you retrieve it.


The 
best electronics for fishing and boating
are the ones that you will use every day, that you can rely on to work when the weather gets rough or when things go awry. The electronics should be simple enough to operate with at most one button per function; if there are too many buttons, then it becomes very easy for things to get lost in translation. Remember safety, too: ensure all your equipment is tested and approved before heading out into nature.