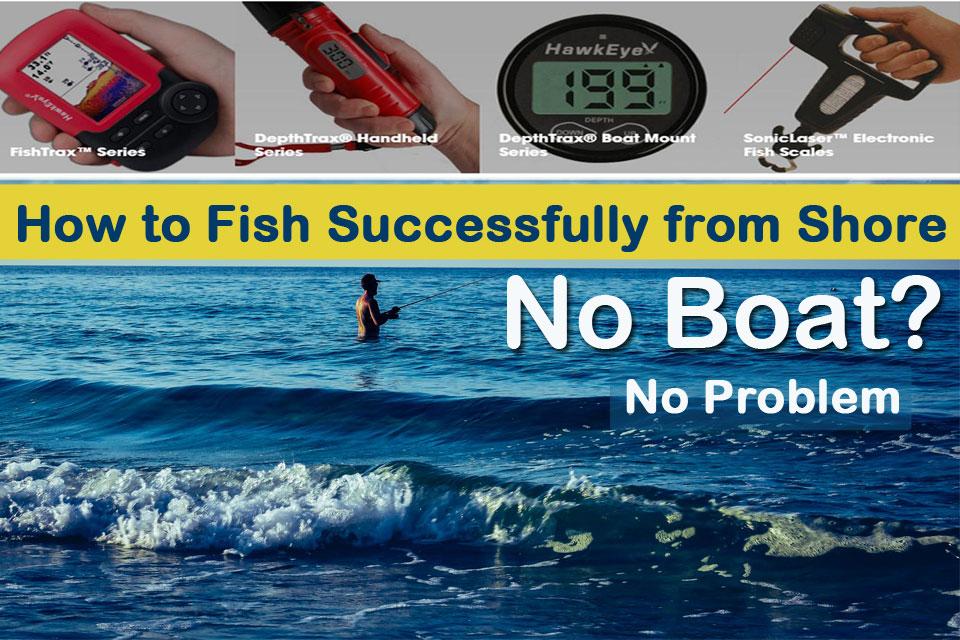 When it comes to shore fishing, you do not have to invest in engines or any boating expenses. There are several quality shore opportunities that can give you a lifetime opportunity to catch fish, even without a boat. Places like golf course swamps, ponds, marinas, and quarries are prime areas that harbor lots of fish, and you can actually be more successful than boat fishing. This type of fishing will not only teach you patience and discipline but will also enable you to catch more fish with little effort.


Just like other types of fishing, catching fish on the shoreline requires practice, attention, and commitment.
Here are essential tips that will offer you an excellent opportunity to be successful in your shore fishing exploration.

1. Distance Yourself from the Water Edge

When it comes to shore fishing, always keep in mind that fish are smarter than you may think. They are able to tell whenever something is not normal and can detect human movement along the shore. So it is important to lay low, avoid making much noise, and blend in with the environment. One of the ways to minimize commotion is by standing at least four feet from the water banks. When your shadow casts on the water, the fish might be spooked and scatter away to far safer areas. This will continuously cause you to change locations, and in the end, miss out on every fishing opportunity. If possible, consider a location that is free from excess vegetation to avoid being cast out.

2. When Casting, Do It Parallel to the Shore

If you fish on a lake that has proper access to all the fishing spots, you can have great success with shore fishing by casting parallel to the shores. Fish always hang out in the muddy areas since thee zones harbor their natural foods. Surface planktons and bugs are majorly found along warm and murky regions of the water, and parallel casting along the shore ensures you focus on these areas often. By doing this, you will be able to keep the bait in the concentrated areas longer, which will allow for more bites.

3. Mimic the Wild Prey

When you go fishing, look around the shore for the objects sitting on the water and the surrounding areas. Look keenly for the colors around to help you in deciding the types of lures that would help you attract more fish. If you can closely identify the kind of food that the fish is eating and what attracts them in their natural habitat, then you will have a successful shore fishing. Also, take advantage of the season; during the summer months, bright colors are very popular because the fish are active and ornery. However, during the cold season, they are unlikely to attack bright objects because of slow metabolism. Consider using lures with neutral colors during cold months to catch panfish and bass.

Apart from the color, also consider the size. Are there other anglers on the shore? Ask them the tips they are using to succeed. Look at their catch, and confirm the type of bait they are using. In Addition, consider the weather patterns as these influence the size of fish that are lured. During summer, for instance, fish are active and, as a result, tend to eat a lot more; in this case, you will need to use a larger lure to get the fish.

4. Pay More Attention to Shade and Wind

Shade and wind will always determine your success when shore fishing because of many reasons. Wind creates predictable fishing areas on the shores if you are keen enough. Look at the direction in which wind is blowing the water because all the food sources will be blown to one section of water. When you cast in such areas, you will not have any problem getting big-sized fish.

Shade may be a good or bad thing for your fishing, depending on the environment. When it is hot, consider fishing in areas with shade because the fish will move to calmer waters or sheltered zones. The best time to fish in shade areas is during dusk and dawn when the fish is looking for food.

5. Hang around Vegetation

If you have ever gone fishing, you are probably aware of the fact that fish loves staying around weeds, trees, logs, and stumps. When shore fishing, you will have higher chances of success when you hand around vegetated areas. But be careful of other organisms that also like hanging around such areas that may cut your fishing line.

Shore fishing is all about adventure, so you may buy waders and get into the water to cast into your most desired zones. Although this may contract the aim of being quit, it would give you the chance to make a perfect cast in a dense area.

6. Pack Light

One way of enhancing mobility when fishing at the shore is by carrying light equipment. The lighter your luggage is, the more often you can move from one spot to another looking for fish; just like navigating through the ice or boat fishing, angler mobility is the key to a successful shore fishing. Only pack what is needed for the day so that you don't get exhausted before catching the desired amount of fish. Carry a crank-bait, water spinner, a few jigs, and some plastic worms. These should fit in a tackle box, which should not be problematic when walking around the lake.

7. Choose a Suitable Jig

One of the most effective ways to target fish along the shore is by using a jig. Consider jigs with varying weights in order to use both artificial and live baits across the water column. A lighter jig is easier to carry around, but it can easily be dangled or retrieved near the surface. Choose a jig that has more weight so that you can cast on mid-range depths. Tackle shops have a variety of jigs with different shapes, designs, and sizes. A quality jig is that which is non-toxic and has high density; this can allow an angler to get less resistance to current while also probing the depths of flowing water.

8. Have Patience

When fishing, most people are always in a hurry to try different spots because of continuously getting influenced by the "shiny object syndrome." Most people hit a rocky spot, and when they realize there is no luck, they move quickly to another area that "looks great" and repeats this process throughout their fishing time. This does not have to happen! Be patient and use your skills so far to decide whether a particular spot on the lake is the most suitable for fishing.
While fishing, look out for the signs and ask other people if they have had success in a particular spot. Talking with other anglers is an enjoyable experience, which presents you with the opportunity to understand the shore fishing process as well as the dos and don'ts.

9. Always Come Back

Never surrender your dreams of shore fishing because you had a bad experience. It is normal to have bad days in the beginning, but with patience and practice, you will be able to increase your expertise in fishing. You have to try again and again until you get it right. You will learn which areas along the shore give the best results. If you fail today, wake up early tomorrow and grab a rod because there are plenty of fish waiting to be caught.