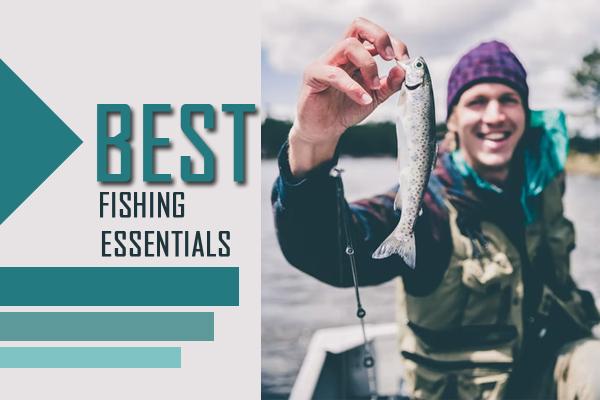 Fishing is a great way for you to enjoy the outdoors and connect with nature. It offers you a great sense of relaxation, satisfaction and improves your concentration levels. Are you eager to learn to start fishing but still don't know where to begin? Worry no more! In this guide, we've covered a few fishing essentials to get you started. Let's delve in.

Fishing tackle and gear
Fishing tackle and gear comprise the equipment anglers use while fishing. They are accessible and affordable fishing tools for beginners. Once you become a seasoned angler, you might want to add sophisticated fishing equipment, but here is a list of the basic tackle and gear to get you started faster.
Bait

Real combo and spinning rod

Bobbers

Sinkers

Lures

Hook assortment

Needle nose pliers with line cutter
A fishing license
All anglers, beginners or experienced, need to acquire a fishing license before they start fishing. Every state in the United States requires you to obtain a recreational fishing license before capturing a single fish. The best part is that the licenses are affordable and easy to acquire.

Each person participating in the fishing activity also needs to have a fishing license. For example, if you intend to accompany your spouse or friends to fish, you will also need a permit. However, these regulations vary from state to state.

You can obtain your license online or from an authorized license vendor. The cost of a short-term or a one-day freshwater permit is less than $20. However, the exact price depends on the state and residency status. If you're a non-resident, you're more likely to pay more for your license. Most states allow minors to fish free, so you don't have to worry about getting a permit for your 14-year old daughter or son.

It's always important to check your state's fishing licensing regulations to learn more. If you intend to fish for a while, you can consider buying an annual license. This type of license will cover you year long, which makes it the most affordable option.
Understand different types of fishing.

Freshwater fishing
This is the most popular recreational fishing type for fishing enthusiasts who don't reside near coastlines. There are so many lakes, rivers, and ponds for you to start freshwater fishing. It's the easiest way to learn different fishing techniques. The rivers, streams, ponds, and lakes may be small, but they offer various species and sizes of fish.

Most of the equipment you need for freshwater fishing includes fishing rods, lines, reels, and hooks. Most of them are a one-time purchase, but you'll need to source worms, insects, and baits every time before you start fishing. Some of the few things you can do to make your fishing experience successful include:

Fishing at the right time- early mornings and late evenings during summer are perfect to fish during the summers. In fall and spring, you can fish at dusk and fish all day during winter if you live in a warmer area.
Fish around covers like rocks and vegetation since fish love to stay around these habitats.

Saltwater fishing
If you're into commercial fishing, this is the best fishing type for you. Water covers 75% of the earth, but 97.5% of that water is salty. Saltwater fishing offers an excellent recreational fishing opportunity, but remember that deep-sea fishing can be dangerous, and it's not advisable to go out alone.

If you're a beginner, it would be wise to start with surf fishing or pier fishing. With these types of fishing, you don't need a lot of experience and gear. What's better? You can do pier-fishing all year round, but you have to consider tidal activities. On the other hand, Surf fishing requires you to have experience with tides and currents.

If you're a beginner or new to a fishing spot, it's advisable to inquire from locals on the best time to fish. If you fish at the wrong time, you may end up frustrated. It would be best if you also considered acquiring live baits rather than lures.

You can also get a fish finder to help you evaluate much underwater information like fish distribution and water depth. The DepthTrax Boat Mount Depth Finder will help you assess the depth while sailing your boat during deep-sea fishing.

Understand fishing conservation
Before you start fishing, you need to understand how to be a responsible angler with the best fish conservation practices. Fishing conservation is all about being mindful of the environment, safeguarding natural resources, and respecting other anglers.

So, how can you practice fish conservation? Here are a few ways:
Avoid catching more fish than you need

Pick up litter you see around while fishing.

Implement appropriate catch and release practices to ensure that the fish you cast back has a better chance of surviving.

Comply and keep up with the latest fishing regulations.
What to expect on your first fishing experience
 It's important not to keep your expectations high, particularly if you have no experience. Although fishing is an exhilarating experience, sometimes catching a single fish may not be a walk in the park. You should expect to recast your net or rod a few times before getting it right.
If you realize you're not catching anything on a particular spot, you can always move to another area. However, that doesn't mean that you should keep changing the position now and then. You should also expect to change lures a few times. The more you change lures, the more you will learn the type of fish biting a particular bait and at what location in the water.
FishTrax Fish Finder
will help you discover areas where there are enough fish. It will also help you identify where the fish aren't biting. It's imperative to understand that no matter how prepared you are, fishing is all about luck.
If you prepare well and are lucky enough, you will have a more successful first-time fishing experience. If it ends up with tiny or no fish, you will have gained more ideas to use on your next fishing trip. With hope, patience, state-of-the-art equipment, and practice, you are an enjoyable first-time fishing memory.
Final Thoughts
One trip is what you need to create a
memorable fishing experience
. All you need is to prepare your bait, cast it adequately, and wait for the bite patiently. With the tips highlighted above, you have more than you need to begin that rewarding fishing experience you have always dreamt of having.
Why not get your rod or fishing net and head out fishing now?