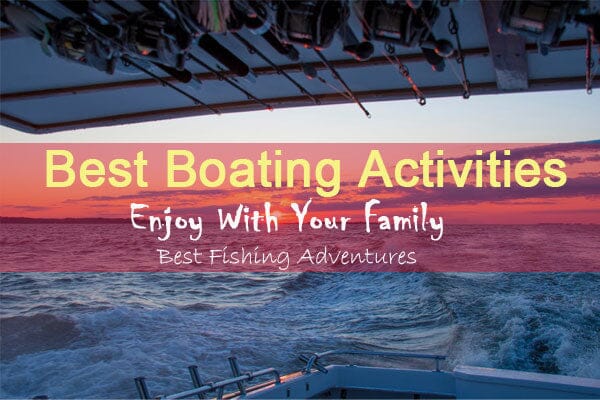 After spending most of the time at work, there are numerous boating and fishing activities in which you can engage, whether on a cold or a sunny day. If you are looking for a way to relax or you are organizing your next getaway, boating, and fishing give you several options to choose from. You can find some great fishing activities on land, but you will never match the excitement or fun of a day out on the water. The best part of boating is that it presents everyone with an option. However, participating in these activities requires the right equipment to have a good time.

Boating

Boating entails several activities that you can engage in for recreational or sporting purposes. Most people travel by boat for leisure, while others use these vessels for fishing. There are several types of boating activities, which include:

Paddle Sports Kayaking

Kayaking is among the water sports that involve using double-bladed oars for propulsion. It involves riding small boats known as kayaks, which are narrow and long with a moderate entrance at the center. Kayaks give you room to extend your legs forward. Everyone can engage in kayaking, regardless of age, interest, and skills.

You can select whitewater kayaking or calm-water kayaking. Whitewater kayaking is where water moves rapidly, while calm water kayaking includes calm waters such as low tidal oceans, gently flowing rivers, and lakes. To be safe while kayaking, ensure you have the necessary equipment, such as sunscreen, helmets, and a watch.

Canoeing

Canoeing is generally performed in an open boat, where the paddlers propel the boat forward while seated or kneeling. You can use a canoe on calm lakes and whitewater on gently flowing rivers. The following are the items of equipment that you need to stay safe while canoeing:

Dry bags
Sun protection
Watch
Paddles
Helmet
Water shoes
A personal floatation device

Paddleboarding

It entails standing on a paddle board and moving on the water using an oar. You can also kneel on the board and use your arm to propel the board forward. Here is a list of some of the equipment required for paddleboarding:

Dry bag
Life Jacket
Swimsuit
Leash
Rashguard
Strap for carrying a SUP
Helmet
Compass

HawkEye Electronics provides stand-up paddle boards that you can use on the ocean, lakes, or rivers. You can easily learn stand-up paddling (SUP), and your family and friends can enjoy this activity. SUP enables you to experience the tranquility and serenity of being on the water while enhancing your balance and strengthening your core.

Fishing

You can go fishing for recreational or food purposes. Recreational fishing may be a competitive sport where prizes are won. Fishing activities include:

Float Tube Fishing

Float-tube fishing involves catching fish in an inflatable, small boat known as a float tube. These tubes are light, compact, and transportable. You can carry out this fishing activity in lakes or other calm bodies of water without massive waves or water movements. The float tube is like a little chair because it has a seating region and a back, which enables the fisherman to sit comfortably.

Ice Fishing

Ice fishing is typically done in frozen bodies of water. You can do this activity during the spring and winter seasons. When the cold season arrives, you can determine how you will do the drilling. During winter, you dig holes in the ice, where you can find fish. During spring, these holes are dug into the land. To catch fish on ice, you must be patient and apply a good strategy. Ice fishing requires you to have equipment such as:

Drill
Fishing rod
Bait
Fishing line
Parka
Tacklebox
Hooks

Pier Fishing

Pier fishing involves the use of two fishing techniques. It combines boat and shoreline fishing to access the fish far from the shores. It is best to determine the best times to fish based on migration patterns, environmental considerations, seasonality, and the species of fish that you target. Consider utilizing internet fishing forums, or you can acquire more information from a neighboring bait shop.

Jon Boat Fishing

Jon boat fishing requires you to use a Jon boat, which is a flat-bottomed boat vessel with benches. Jon boats are suited for still waters, and they are used to perform various shallow-water activities, including fishing, recreational boating, and hunting. Some Jon boats have a unique design with no benches. These boats are usually made using aluminum, fiberglass, or wood.


Shoreline Fishing

Shoreline fishing is the most common type of fishing. You can easily participate in shoreline fishing because you don't need a boat and can do it on different water bodies. Shoreline fishing on a lake, stream, or river is an excellent way to get started in fishing. It has minimal risks and is budget-friendly. The following items are required for shoreline work:

Bait
Fishing reel
Storage bucket
Depth sounder
Tackle

Sailing

Sailing is where the wind is used to move water vessels such as a sailing ships, a sailboat, a windsurfer, and a raft. Sailing was the primary means of transportation until the first half of the 19th century when steamboats were introduced in most parts of the world. Today, sailing is a form of sport or recreation. Cruising and racing are the two types of recreational sailing. Cruising includes vast ocean and offshore trips, daysailing, and coastal sailing within sight of land. The sails depend on the wind to generate lift and drag. You can set the sails to angles that optimize the wind's power to move swiftly.
Recreational Sailing
It can be divided into cruising and daysailing. Daysailing is where you experience the pleasure of sailing without going to a specific destination. Cruising is when you use a sailing yacht that can sustain overnight use.
Sport Sailing
Sport sailing entails dinghies, racing yachts, or other small sailing craft like land and iceboats. Sport sailing is classified into multiple disciplines, including ocean racing, match racing, foot racing, speed racing, and team racing.
Final Word
Before you go fishing and boating, carrying the required equipment would help. You can find guidance and necessities on online platforms. You can contact us or visit our website if you need
fishing and boating equipment
. We will assist you in selecting the most cost-effective and high-quality items.