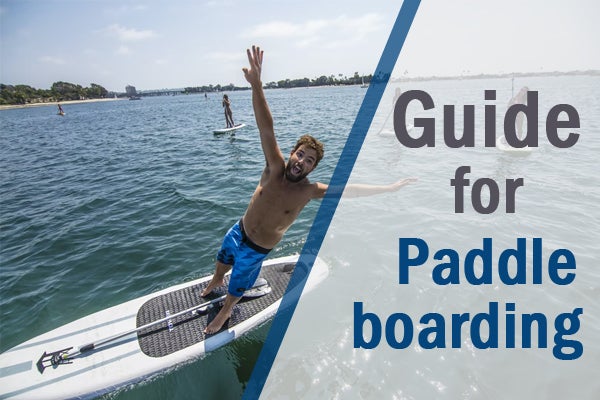 Paddleboarding is like walking on water. It is an amazing experience, on that anyone of any age can experience.

Imagine yourself out on the river or ocean, the calm waters under your feet. You can see it all. The fish, the dolphins swim next to you. It is peaceful and wonderful. That is what paddleboarding is like, but only if you do it right.

Paddleboarding is not always easy, but it is not difficult either. It is just about practice and learning to control the board correctly. Unfortunately, most people don't know how to control the board. So before you do anything else, read this guide to make your next paddleboard trip exciting and enjoyable and not dangerous.


If you are just starting and have never gone paddleboarding before, you can rent or borrow a paddleboard from your hotel or from a water sports store. You may not need equipment in the beginning. At first, you can rent the equipment from a sporting goods supplier or a local water sports shop. However, if you continue to use paddleboard. You will need a paddleboard, paddle, an electronic waterproof compass.


Once you have tried paddle boarding and find that you like it, you may buy a paddleboard. We recommend the inflatable paddleboard for beginners as it is easier to carry to the water. The only problem is that you have to use a hand pump to inflate once there. The solution is to get a portable electronic pump you can plug into the lighter or USB outlet in the car. Electronic pumps can help you deflate the paddleboard as well. The benefit of having an inflatable board is that it is easy to carry back and forth to the beach, river or lake. Carrying can be a defining factor as to how often you practice the sport. So if you have to walk or drive a great distance and find that a standard paddleboard is too heavy, consider buying an inflatable board that you can inflate and deflate on location.

As a more advanced paddleboarder, you will want to get a good paddleboard. You'll need to determine whether you want a longer board or a shorter but wider board. You can evaluate your needs by renting different boards before you buy one.
You will want a waterproof navigation compass. You might want to look for one with glow-in-the-dark capability and a rotating bezel. Just be sure the compass is waterproof and not just water-resistant, as a tumble in the water can cause water to penetrate the compass. Be sure to use a compass with an attaching mechanism that you can attach to your clothing. '

Now let's get down to how to paddleboard. First thing is first. Before you get on a paddleboard, you need to know how to swim. So if you do not know how to swim, you need to take that task on first. Then, once you know how to swim, you are ready to learn the steps that make paddleboarding easier, so let's take a look.


Stick to Stable and Calm Waters
If you are going to get on a paddleboard, be sure the water and the winds are calm. This might not seem like a big deal, but even the smallest breeze can whip up the water and make it harder to get on and stay on the board. Remember, you aren't competing for anything. You are only paddle boarding for fun. Remember, paddleboarding is not surfing, so it is a sport your perform in calm waters, and not where there are a lot of waves, rapids, or water areas affected by wind.


Paddling in A Prone Position
If you have ever gotten on a paddleboard, you know how important prone paddling is. It helps you get away from the shore and deeper into the water. Lie on the board and paddle out with your arms and hands. Keep your hands in a closed finger position in a cup-like shape just as you do when you swim the crawl. You can choose to use the paddle at this point or keep it on the board next to you until you get out into deeper water. If possible, keep the paddle under you, so it doesn't float away.


Pulling Your Body Up Into Position
Once you are away from rough waters, you can sit up and take a crawl position. Remember to keep those paddles secure. You'll need to continue to hold them all the time. Stay in the middle of your board. Don't move too far up or back on the board, or you change the balance and may cause it to flip. Carefully pull one foot up into a crouch position. Follow with the other foot until you are standing.
Paddle.
Take note of your paddle. You'll see a T-bar at the top of the shaft. Cross your opposite arm over and place it on the top of the T-bar grip. Place your hand closest to the paddle in the middle of the paddle. Push the paddle with the hand you have on the top T-bar.

Swap the paddle from one side to the other as you tire from paddling on one side and maintain the paddle in the direction you want.

Push back on the paddle until the arm on the t-bar straightens. Take the out of the water and push down and back.

Direction
Try paddling on one side of the board. If you have a good paddleboard paddle, you won't need to switch sides too often. If you find that you need to change sides too often, you might want to look into buying a better paddle for your board. But if you find yourself heading in the wrong direction, use the paddle to find the right direction.
Bottom Line
Paddleboarding, like any sport, is about skill. The more you practice, the better you will get. The good thing is that anyone can learn to paddleboard, no matter what your age. It only takes a few trips out on the paddleboard to get the hang of this sport.