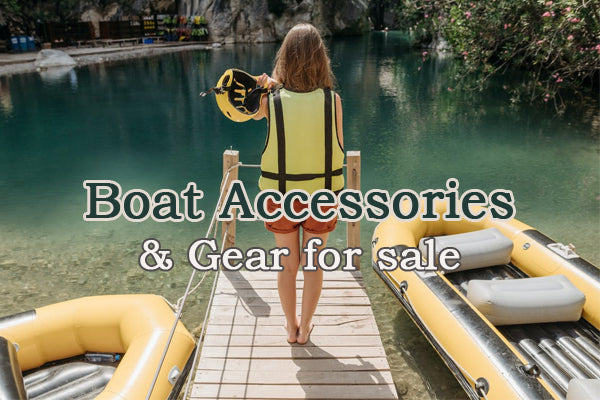 Introduction
There are a few accessories you must have when you are a boating enthusiast. There are plenty of
boat accessories and gadgets
in the market that it can be hard to tell which ones are essential and which aren't. The right accessories will help you take your boat on the water as much as possible. If you are new to boating, these are some things you should consider getting.
Safety First
Get all the required safety tools if you want to enjoy your trip on the waters and spend less time worrying about emergencies.
Signal Flares
You must have distress signals every time you go on a trip. Signal flares work best when you are stranded. For some boats, it's required by law, so you better keep them on board at all times. A sound signaling device is also ideal, especially when it gets foggy. Some flares require a gun, while others are self-launching.
First Aid Kit
Ensure your first aid kit is updated before heading out. A basic kit will help with minor accidents on the boat until you get better help. The bandages, antiseptic, pain relievers, and gauze should always be there; you can add more things. If you get seasick or have any allergies, get some medications and add them to the kit. Always carry fever medication to
your boating trip
and any other drug your doctor prescribed.
Fire Extinguisher
There is a common misperception that there isn't a need for an extinguisher since your boat is on the water. But all marine vessels need to have a fire extinguisher. Boat fires are hard to put out with water. Have at least one extinguisher for a small vessel.
Lifejackets
Carry enough lie jackets for all the people accompanying you on the boat. The jackets will be easily accessible. Some people have their own on-boat rules, which ensure everyone wears their jacket at all times. If you have children on your cruise, you can have them wear the jackets at all times, but adults can grab them in an emergency. In addition to the jackets, get throwable flotation devices.
Required Gear
When you have all the
safety gadgets
, you must concentrate on boat gear next. These are things that make the bat a complete marine vessel.
Boat Bumpers
Boat bumpers are sailing essentials. They absorb force and prevent damage on the boat when you dock or raft up with another boat. Damage to the boat's hull can be very costly to repair; bumpers are there to guard against this issue. There are different types of bumpers; ensure you select the right one for your vessel.
VHF Radio
Ensure you have a working radio onboard for boating safety. This two-way communication device allows you to radio for help in a navigation disaster. You can call another boat nearby or call anyone at the coast to come and help. Sometimes the signal isn't great when you are sailing. Using your mobile device may be out of the question, and the only thing that can help you in such a scenario is a VHF radio.
GPS Device
You may need to relay your exact location to someone offshore. The
GPS device
lets you know where you are and where you are going. They are not very common in boats, especially the older ones. You might have to get the devices before shipping out. Ask someone with boat experience to recommend the best electronics. Also, remember to bring a nautical chart.
Personal Accessories
You need personal accessories to make boating fun, especially if you spend a long time sailing. Things like enough snacks and drinks are a must, and you need identification for everyone on the boat. With that said, consider getting these items.
Comfortable Shoes
Keep some comfortable shoes on the vessel at all times. It comes in handy when you forget to pack a pair for your trip. Slippers and non-slippery shoes are a lifesaver; you can never be too careful when exploring the waters. Even if it's hot outside, don't forget to carry a jacket. There can be sudden storms, or the weather can get cold at any time.
Waterproof Or Dry Bag
Dedicate a bag or small box to keep your sensitive belongings from water. Since your boat is surrounded by water, it can spill over sometimes and get things wet. When you secure your documents or electronics on a bad, you won't have to worry all the time.
Sunscreen And Sunglasses
Protect everyone from the harsh sun at all times on your voyage. The sun can be blinding sometimes and make it nearly impossible to focus on the task at hand. Savvy boaters also recommend carrying insect repellent. If you are boating overnight, carry your sleeping equipment to make the cold nights comfortable.
Charger
Some boats have one or two charging ports. Bring your phone charger or keep one on the boat at all times if you are forgetful. You can also buy solar chargers and harness the sun's power since you are stuck outside. These solar chargers can power your mobile devices,
GPS
, VHF radio and other electronic gadgets on board.
Entertainment Devices
By all means, carry your smartphone or tablet, but don't forget additional entertainment devices. A DVD and a CD don't require any streaming services, making them more suitable for a boating adventure. You can also carry a book, magazines, or card games if you have your family or friends with you. Binoculars are fun for bird watching and other things. A camera is great for capturing breathtaking sunsets.
Fishing Accessories
Many boaters also enjoy fishing. If you do, carry all the fishing gear, including fish coolers, rod holders, and
fishfinders
. When you decide to take a fishing break, you will have all the required things on board.
The Fun Stuff
For extra excitement on your boating adventures, get some of these
accessories
.
Snorkeling Accessories
Sometimes the fun times are not on the surface; the ocean or lake will become alive when you look underneath. Snorkeling is probably one of the most fun things to do while at sea. Snorkel, fin, and mask are essential for this adventure.
Fun Floats
There isn't a need to spend time on your boat if you don't plan to take advantage of the water around you. You can stop for a while and relax on a fun float while taking in your amazing surrounding. Tow tubes might also come in handy.
Diving Boards
Not all boats have an ideal diving spot. That's why you need to carry diving boards from home. Without the boards, you might not get the chance to swim in the open waters or
enjoy your floats
. Always ensure you secure the boards properly before you and your friends start jumping.
Grill
When on a
fishing trip
, a mounted grill can help you enjoy the spoils of your labor while on the boat. Depending on what your boat can handle, you can get an electric, charcoal, or gas grill. Get something that is small and convenient. You must be cautious of the weight you carry when cruising.
Final Thoughts
Boating accessories
make a big difference. Your vessel will become a great pass time once you install all the fun and safety equipment. Electronics and other devices can help in an emergency or with entertainment. When you bring a group with you, carry enough supplies to keep everyone comfortable.